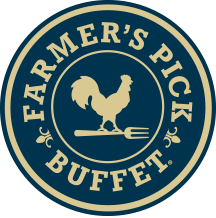 Local. Fresh. Flavorful.
Farmer's Pick Buffet® partners with local farmers and regional growers to bring you the freshest meals around. With ingredients this fresh and flavorful, you'll definitely be back for seconds.
Features
A wide variety tastes better when the ingredients come right from your own backyard.
Visit us at Farmer's Pick Buffet® and enjoy a true farm-to-table dining experience.
Hours of Operation
Breakfast
Saturday & Sunday: 7:00 am - 10:00am • $10.99*
Lunch
Monday - Friday: 11:00am - 2:00pm • $13.99*
Saturday: 11:00am - 3:00pm • $17.99*
Sunday Brunch: 11:00am - 3:00pm • $17.99*
Dinner
Sunday: 4:00 pm - 8:00pm • $17.99*
Monday – Thursday: 4:00pm - 8:00pm • $16.99*
All You Can Eat Crab Legs
Friday & Saturday: 4:00pm - 10:00pm • $37.99*
Special pricing available for children under 12 years of age. All your favorite sides, salads and desserts are included.
*All prices stated exclude holiday and special menu pricing. Tax and gratuity not included. All prices subject to change without notice. Nontransferable. Complimentary beer and wine with dinner on Friday and Saturday nights.
A Fresh Way To Buffet®
With more than 6,100 farmers' markets across the country, our Farmer's Pick Buffet brand uses locally grown items including produce, meat and eggs, to provide guests with true farm-to-fork dining.
Our menu features fresh produce, which is turned into delicious, seasonal creations by our experienced chefs. Our culinary team works directly with local farmers and businesses to provide you with A Fresh Way to Buffet!